Cheer for your neighbourhood Tigers at the Pulikali Tiger Dance held in Thrissur, Kerala on the 4th day of Onam every year. Thrissur is host to the annual Tiger dance festival, locally known as the Pulikali. The pantomime-cum-parade dance, where potbellied men dance with tiger faces painted on their rotund bellies to rustic drumbeats, marks an end to Kerala's Harvest Festival.
The Pulikali Tiger Dance is said to be a 200 year old tradition. But no one knows how it all began at Thrissur. While some locals say that Pulikali was brought to Kerala by Muslims who performed the dance during their mourning festival of Muharram; some say the local Maharaja wanted a new dance, something macho, as a part of the Onam celebrations with steps that mime hunting moves and tactics.
This unique dance festival sees the participation of 6 to 8 teams from across the city. The morning is spent in getting the faces of tigers, lions and panthers painted on the rotund bellies of the participants, some in vivid colours of fluorescent, green and even pink!! Accompanied with the beats of drums each of the teams then compete against one another in a street parade. The winning team is selected by a panel of judges based on the synchronization and the number of large bellies that jiggle to make the faces of the big cats look ferocious.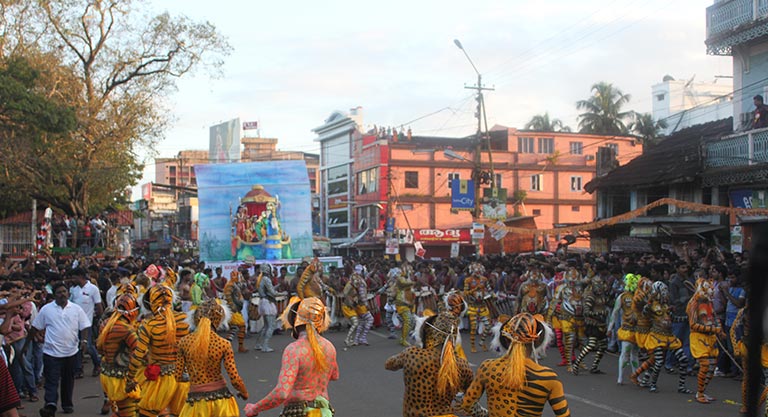 Interact with the Tigers and get to know first-hand the painstaking efforts of the performers before they take to the streets. If you are adventurous the painters will be happy to paint a tiger face on your belly and learn a few Pulikali moves too from the performers. Remember, the bigger the belly, the cooler it is.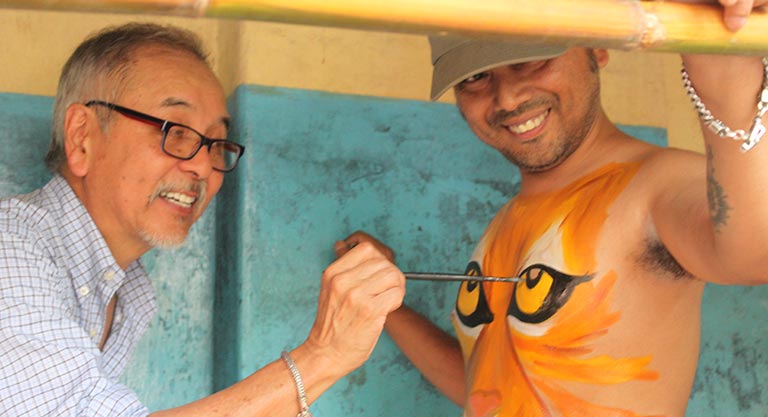 The surreal vibes that accompany this parade are not to be missed.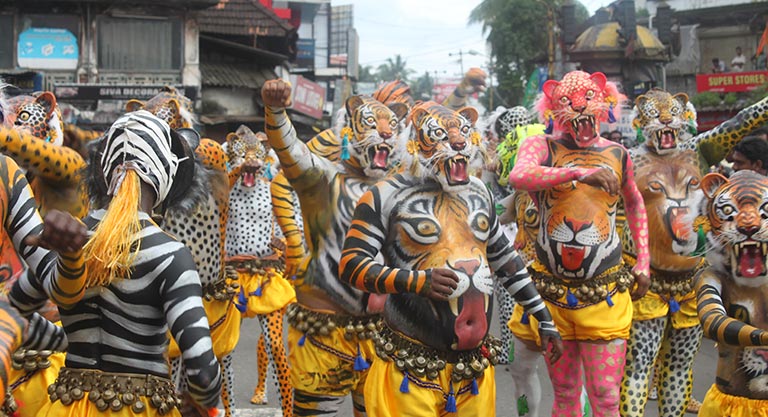 Why: Big Bellies painted with the faces of tigers and the vibes.
Where: Thrissur.
When: 29th August 2018.