The CEO's Guide to Pondicherry
It is fair to say that I have travelled extensively across the country and have had the opportunity to experience first-hand the diversity of this vast country. While the North is vibrant and cacophonous, the South offers a contrasting variety of serene spaces and architectural gems. These travels often make me marvel at how various nations that changed the course of this nation, in whatever manner, have left fragments of their legacy behind. And one such moment was when I visited Puducherry or fondly known to most as "Pondi".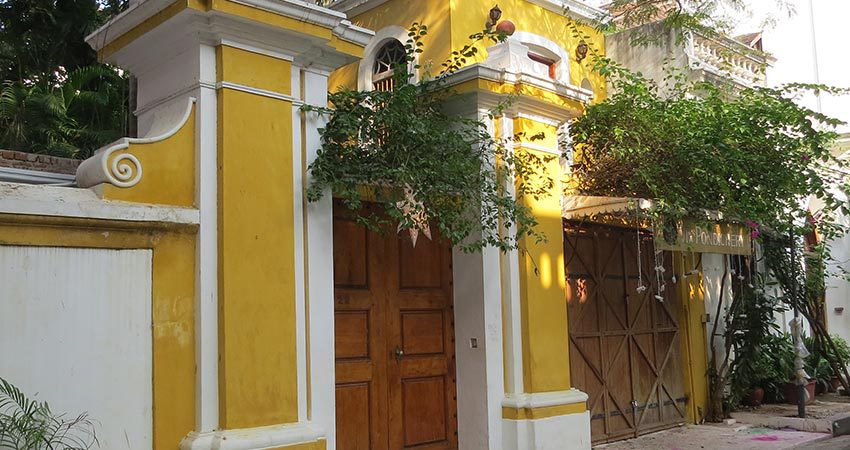 The contrast of Large boulevards, brightly painted houses with high compound walls laden with bougainvillea, clean, well-laid streets with French name plates and Parisian looking cafés in the White Town and the multi-ethnic structures clustered in the Old Town gives Puducherry a very distinct character. The confluence of numerous cultures is so tangible in Puducherry that it can effortlessly overpower all your senses in just a day. Although I have many fond memories of Puducherry, here are the 4 things I recommend for a first timer travelling to the "French Riviera of the East".
Walk, Walk, Walk (or cycle): The best way to take in the sights, sounds and smells of this place is to walk around. The lazy vibe of this town is infectious and the almost empty of vehicles roads make it a haven for pedestrians. This is also how you will discover neat Parisian cafés and absorb the grandeur of the French era to the minutest detail. For the more active holiday seekers, you could hire cycles to explore this quaint town. A walk along the promenade is a must though best done post 5 pm when it becomes a no vehicle zone till early the next day morning.
Visit the Museum: The museum is housed in the lovely old Law building and houses a great collection of artifacts, furniture and paintings from the French era. Also on display is a rare collection of coins, fragmented pottery, beads, urns, bronze sculptures from various periods. Although it is not a very extensive collection, some of the pieces are quite exquisite and give an insight into the lifestyle of the French who occupied this area.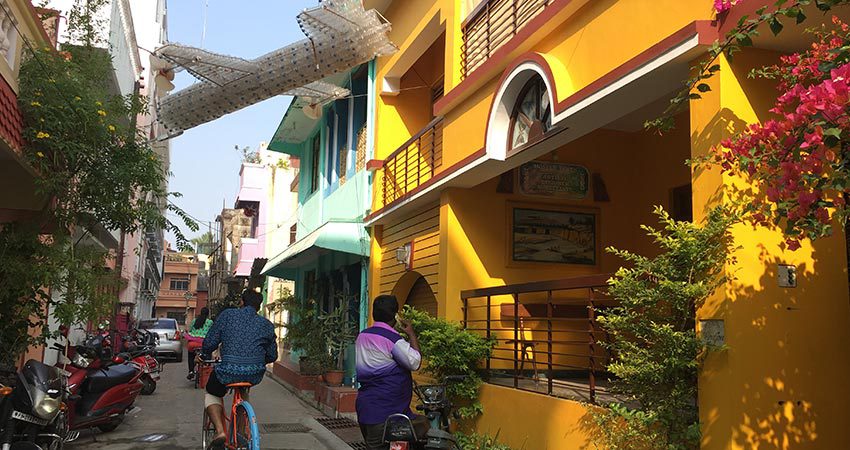 Dine at Villa Shanti: Hidden behind a discreet façade like many other hotels in the white town, Villa Shanti is one of my favorite places to dine in when here. The ambience is uber luxurious and charming with a vertical garden to add a calming aura to the place. This is also my go to place t try out some authentic French dishes though the Indian cuisine does not disappoint either. They have a fully stocked bar too and the desserts are heavenly!!
Souvenirs and more: There are chic boutiques for clothes, leather stores for some quality leather ware and for those who are enthusiastic about bargaining – the very Indian way of shopping – there are some interesting street shops that you can waltz into. Don't forget to visit Auroshika to pick up some incense sticks or candles with some intense fragrance. Kalki is perfect for those who would like to pick and choose from the various eco-friendly handmade products from Auroville. These Boutiques make for a perfect souvenir stop for yourself and your loved ones back home.
Though this is not an exhaustive list of things to do, they are the experiences that have stayed with me from this rustic, charming and quaint erstwhile French colony of India.