Holi, the festival of colours is the most fun filled Hindu festival. It is a popular spring festival observed in India, Suriname, Guyana, Trinidad, the UK and Nepal.
In West Bengal of India and Bangladesh, it is known as Dolyatra (Doljatra) or Boshonto Utsav ("spring festival").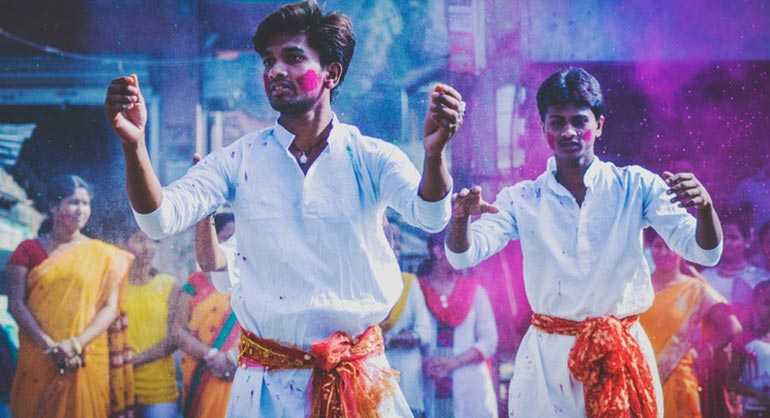 It is an occasion that brings in unadulterated joy and cheer, fun and play, music and dance and of course, lots of bright colours.
Traditionally it is a two-day festival; the first day is known as Holika Dahan or Chhoti Holi, on this day the bonfires are lit in memory of the miraculous escape that young Prahlad had when Demoness Holika, sister of Hiranyakashipu, carried him into the fire. Holika was burnt but Prahlad, a staunch devotee of Lord Vishnu, escaped without any injuries due to his unshakable devotion.
The second day is Rang-wali Holi or Dhulandi it is celebrated by people throwing coloured powder and coloured water at each other.
Every household has its own traditions when it comes to any festival in India but there is one thing which you will find common to Holi and that is the delicious sweet treat, Gujiya.
Gujiya is a fried sugary sweetmeat with all purpose flour coating and filled with khoya ( is a dairy product widely used in the cuisine of the Indian Subcontinent, made of either dried whole milk or milk thickened by heating in an open iron pan) almonds , raisins and cardamom.
You can also try to make this mouth-watering snack at home – click here for a video recipe.
The festival date, which is determined by the Hindu calendar, varies from year to year on the Gregorian calendar. Usually the festival falls in the month of March. The festival signifies the victory of good over evil, the arrival of spring, end of winter and for many a festive day to meet family and friends.
This jovial and dramatic festival of colours is not a spectator experience; so be prepared to play along and join the fun. The jubilant spirit of the festival involves participants throwing powder and water at each other using the bright, exuberant colours to signify the start of spring, the power of love and the generosity of humanity.