"Although our backgrounds and languages may be different, one thing isn't different, and that is: everybody likes to have a good time. If there's one language that's universal, it's dances, particularly Folk dances." – Benjamin Watson
With India's myriad cultural and traditional lineage it is but natural that there is a mind boggling variety of things to do and see. Among them are the folk dances, each a representation of the region and its people it is inherent to. The numerous folk dances of the country are a window to its history where myths and legends come together to define a way of life.
Here is our pick of 12 folk dances from across the country.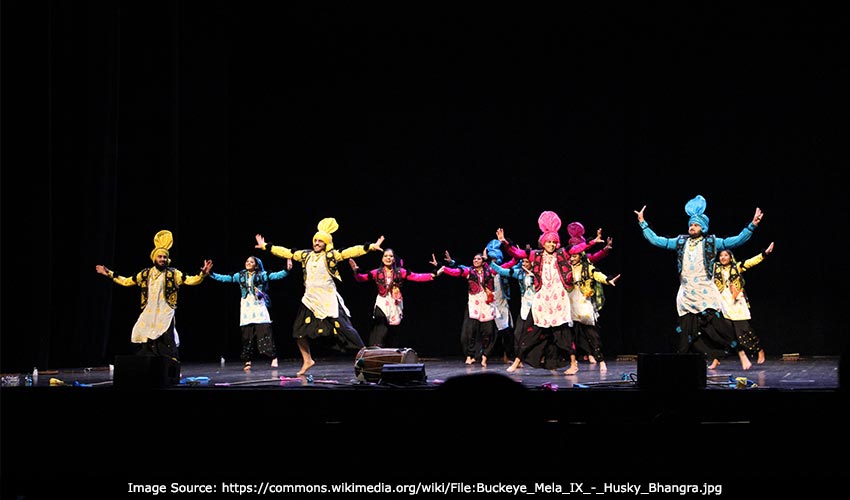 Bhangra, Punjab
Bhangra is an upbeat folk dance accompanied by dhol (drums) and performed by men dressed in colorful traditional attire. The dance was associated primarily with the spring harvest festival Baisakhi, but has now taken precedence over weddings, local affairs and other celebrations. The female version of this dance is called Gidda.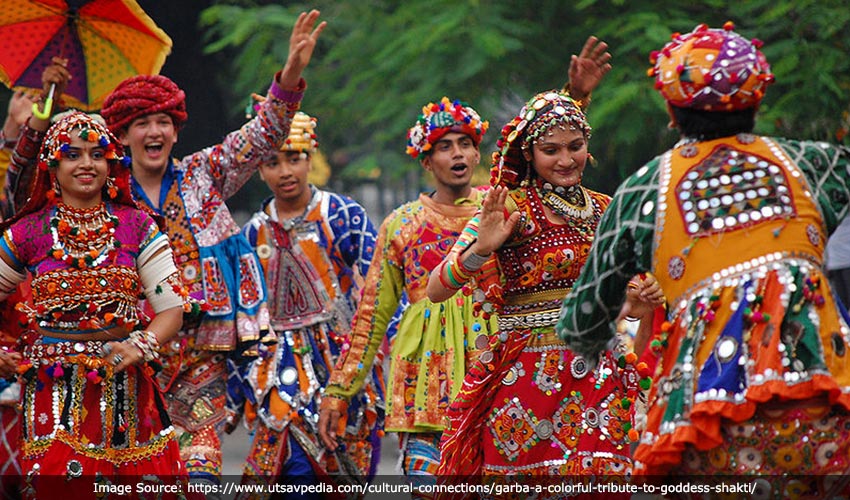 Garba, Gujarat
The traditional Garba dance from Gujarat state is performed during the festival of Navratri that symbolizes celebration of life. Men and women dance in a huge circle around a clay lantern clad in elaborate ethnic costumes.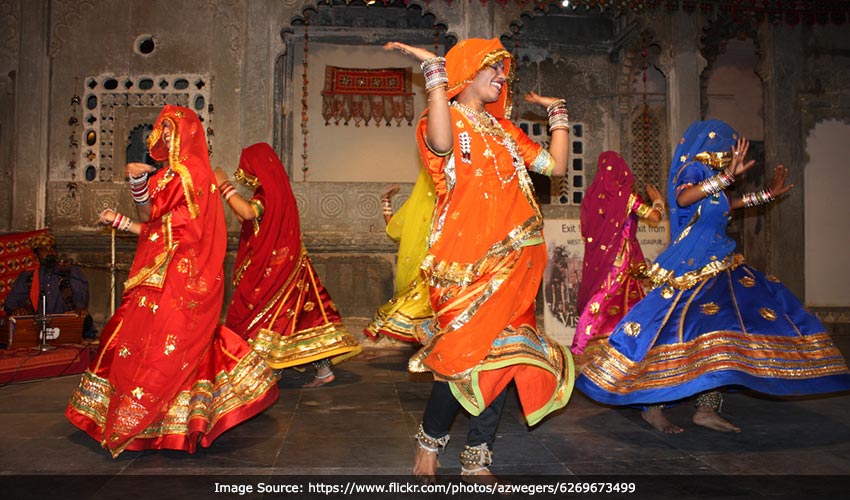 Ghoomar, Rajasthan
Ghoomar is performed by women in colourful swirling ghagharas, a traditional Rajasthani attire. The beauty of this dance is in the stunning whirling which go on to reveal the various gorgeous colours of the swirling skirts.
Bihu, Assam
This folk dance from the state of Assam is performed during the festival of Bihu-which is a 7 day affair. Full of exciting changes in rhythm, mood, movements, pace, tempo and improvisation, it is a 'dance-drama' type performance.
Lavani, Maharashtra
Lavani is a high energy performance with a combination of traditional song and folk dance performed to the beats of Dholki. A Lavani performance usually chronicles the story and elements of a man-woman relationship.
Raut Nacha (Saila), Chhattisgarh
The Raut Nacha dance is performed by the Yadava/Yaduvanshi tribe of Chhattisgarh who are believed to be direct descendents of Lord Krishna, a prominent God in Hindu Mythology. This dance is a celebration of victory over all evils.
Gotipua, Odisha
Mostly performed by young boys aged between 6 and 14 who dress up as females and wear beautiful ornaments. They not only perform this dance with sophistication, but also grace. It has high degrees of technique and presentation.
Pulikali, Kerala
Performed during Onam, Kerala's harvest festival, Pulikali is the dance of the tigers. Artists and dancers paint their bodies as tigers and hunters and dance to the beat of traditional musical instruments.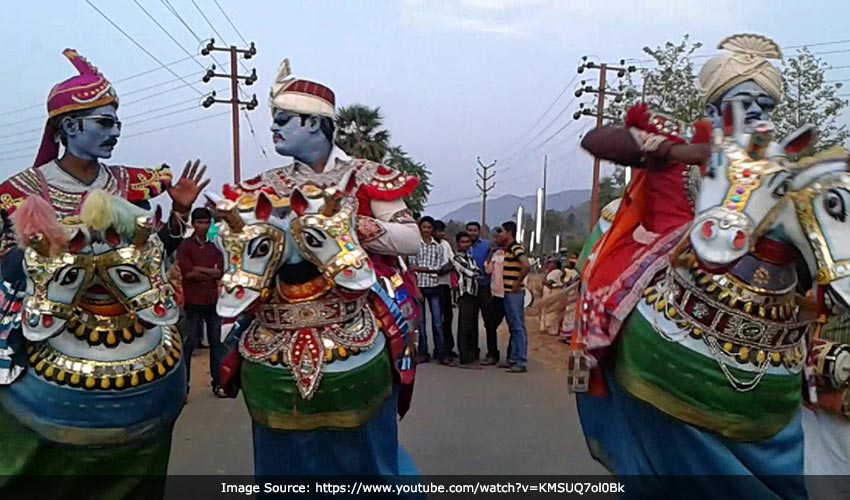 Poikkaal Kuthirai Aattam, Tamil Nadu
Poikkaal Kuthirai Aattam (Dummy Horse Dance) is one of the folk dances of Tamil Nadu. This dance is performed by a pair of artists representing a King and Queen adorning the costume of a horse. Sometimes, they indulge in acrobatics as well.
Matki Dance, Madhya Pradesh
This is a solo dance performed by women on special occasions such as birthdays, festivals, weddings, etc. The performer dances with a Matki (clay pot) on top of her head (often more than one).
Dollu Kunita, Karnataka
Dollu Kunita is a vigorous dance from Karnataka, which is accompanied by Dollus (drums hanging in temples which are beat at the time of worship). This performed by men in a semi-circle who move to the beat of the cymbal played by the leader of the group which alternates between fast and slow.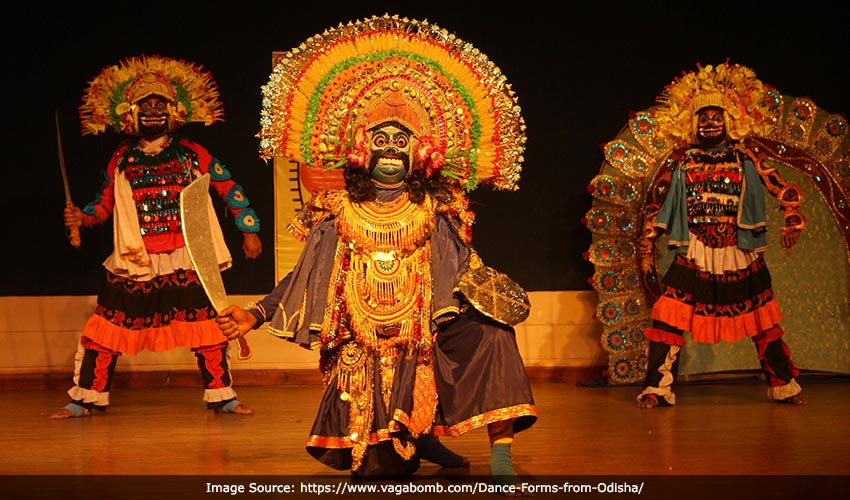 Chhau, West Bengal
This is a tribal martial arts dance popular in West Bengal, Jharkhand and Orissa. It is mainly performed during regional festivals. The highlights of this dance are its combat techniques, stylized moves inspired from birds and animals, as well as movements based on domestic chores.