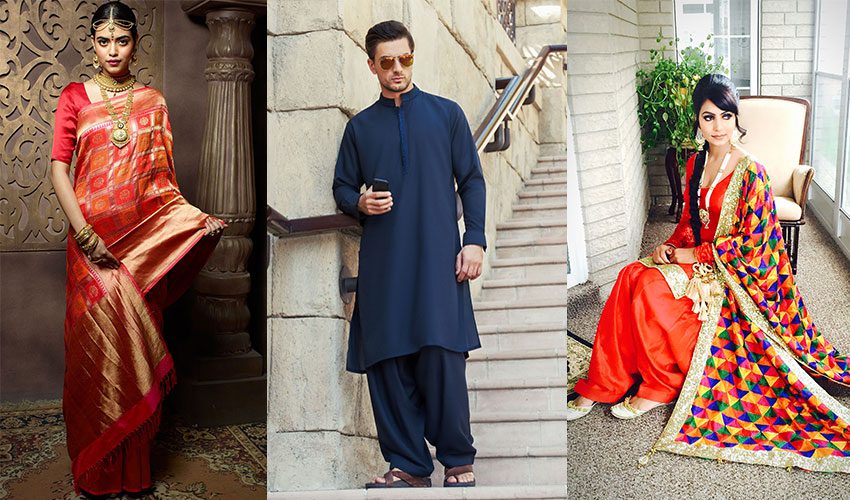 Sari
Sari, sometimes spelled 'saree' is the traditional attire worn by women across India. A single piece of fabric varying from 4.5 meters to 8 meters often has heavier sections to allow it to drape correctly. Its border (akin to a hem) would be woven with a heavier density, as would its 'pallu' (the often decorative end piece). The sari is worn with a blouse.
Its style has evolved over several hundred years with influences ranging from region to foreign influence. If one were to count now, there would be over a hundred ways to drape a sari. Varying materials like silk, georgette, crepe, polyester etc. are used to create saris . While some are manufactured using machines, India has a treasure trove of hand woven fabrics each unique to its region.
Kurta pyjama
Kurta is a long loose shirt, the length of which falls below or may be just above the knees of the wearer which is paired with loose pants called pyjamas. Though it was earlier donned only by men, today it has become a unisex dress that both men and women can wear.
Today, this attire can be seen worn by men in the northern parts of the country like Punjab, Kashmir and Himachal Pradesh. It is also paired jeans to give it a funky touch by young men.
Salwar Kameez
The Salwar Kameez is a female version of the Kurta Pyjama. The loose shirt is called Kameez which is teamed with balloon like pants; called the Salwar. It is the second most common attire seen across the country. Women wear a dupatta (similar to a scarf) along with the Salwar Kameez to add that glamour quotient.
Like the sari, Salwar kameez also comes in varying materials and styles, each unique to the region.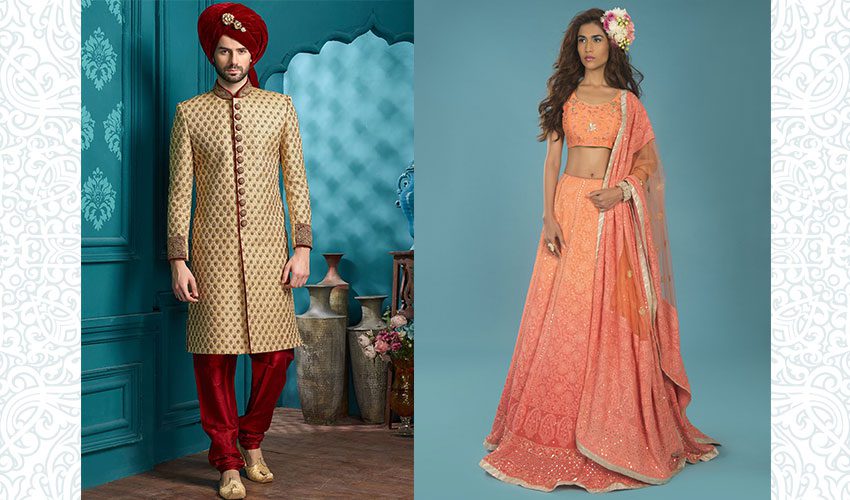 Sherwani with turban
An attire worn by men for grand occasions, the Sherwani is a long coat garment which is a cross between the English frock coat and the elaborate Mughal Kurta. The sherwani is one of the most popular ensembles picked by Indian Grooms.
The sherwani is paired with a churidar and a smart pair of jutti for footwear. A turban beaded with gems or flowers completes the attire to give it a regal aura.
Lehenga
A lehenga is a combination of a long skirt and a blouse worn with a dupatta. Tracing its roots back to the Mughal era, there is little that has changed in this elegant ensemble. Though constantly experimented with to keep in step with the modern times, its elegance has been a constant.
Traditionally, most lehengas were umbrella shaped, but now there are numerous shapes to give an innovative look to the ethnic attire.
Mundu and shirt
The Mundu is a garment worn around the waist in Kerala by the men folk. It is closely related to the dhoti, sarong, and lungi paired with a collared shirt.
At the time of traditional ceremonies men have to wear mundus with a gold border, whereas at other times, mundus with a border of varied colors like blue, violet, green etc can be worn. Owing to the regional climate it is the most convenient clothing to adorn and almost all men in Kerala are seen sporting a Mundu. Variations of the Mundu are also worn in the south Indian states of Karnataka and Tamil Nadu which are usually plain white in color.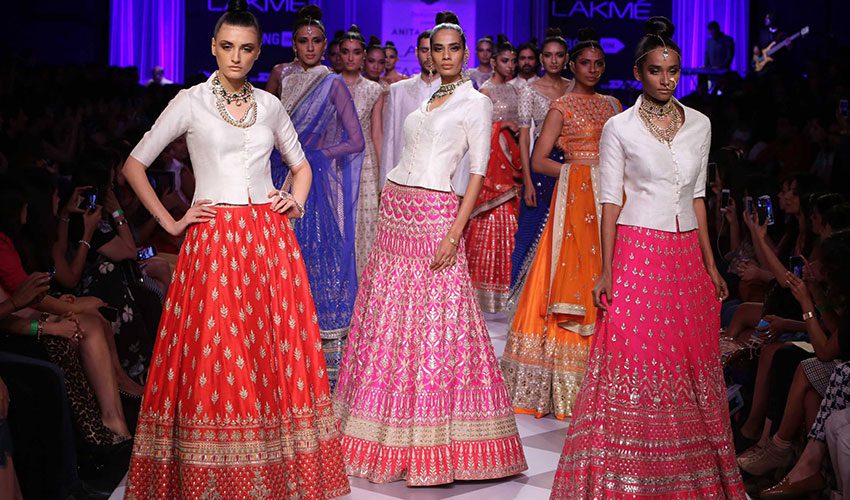 The latest in Indian fashion
To see the ethnic Indian ensembles in contemporary styles these are the top fashion shows we recommend:
• Lakme Fashion week in Mumbai
• Wills lifestyle India fashion week in Delhi
• Rajasthan Fashion week in Jaipur
• Indian Bridal fashion week in Delhi and Mumbai
• Bangalore Fashion week in Bangalore